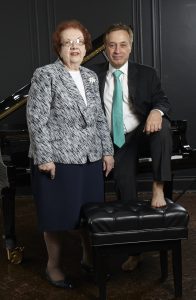 The Mission of Breaking The Rules is to positively impact and uplift modern American culture by providing adults with a language and tools for the greater understanding and enjoyment of classical music.
Dawson delivers his exciting material in a highly entertaining manner.  He accompanies his intriguing and often anecdotal dialogue with lively movement about the stage and playing excerpts from many styles of music on the piano.  There is never a dull moment.
1st Segment: "Did Mozart Break Any Rules?"  Dawson's widely diverse musical experience comes into play as he demonstrates the way in which all music is interrelated.
2nd Segment: "Translators of the Universe" demonstrates how classical music stands apart from all other genres.  In this segment Dawson reveals a discovery he made, showing the profound relationship between classical music and natural phenomena (the forces of nature). This insightful discovery has received letters of credibility from NASA scientists.