Corporate and Private Events
Bob Dawson's corporate and private engagements include:
The Union Club, The Century Association, The River Club (E. 52nd), La Grenouille, Nantucket Golf Club, The Yale Club, The Harvard Club, The Devon Yacht Club, New York Yacht Club, The Carlyle Hotel, Neue Galerie, Somerset Hills Country Club in Bernardsville, NJ; Round Hill Club in Greenwich, CT. (All above listed institutions have had Dawson play "return engagements").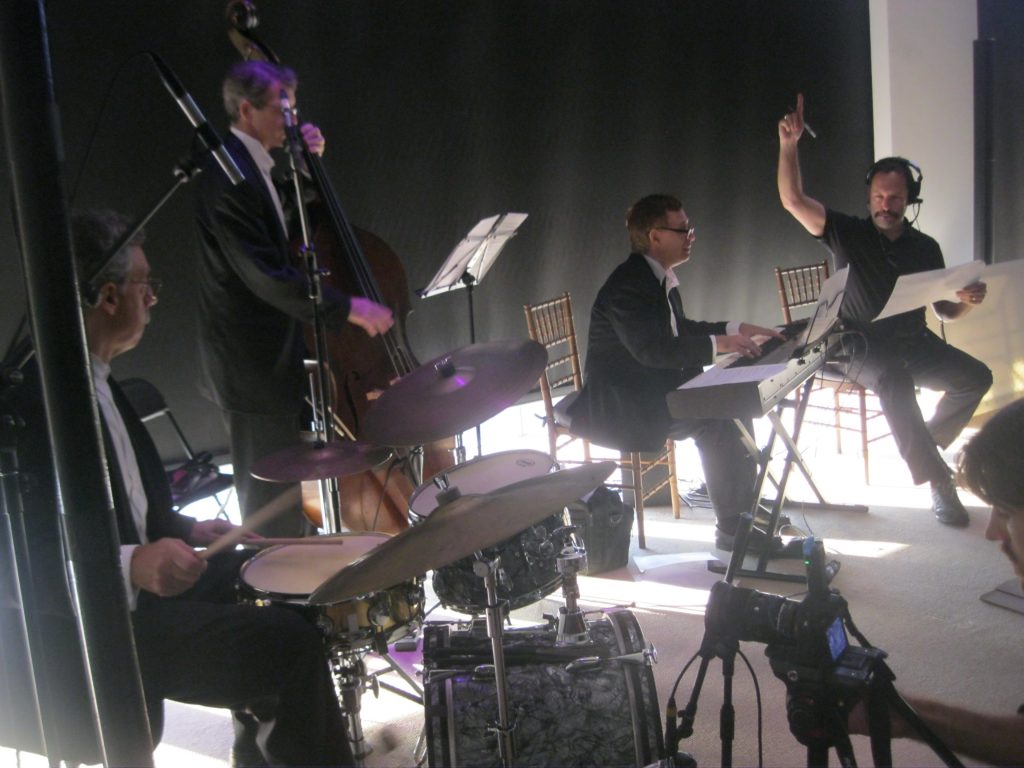 Photo by Juliet Sunara
Bob Dawson trio with Tony Tedesco (drums) and Tom Kirchmer (bass) playing  a "God's Love We Deliver" Gala.
Clients include:  Law firms, Fortune 500 companies, Forbes 400 individuals (for example the late great, Peter Jay Sharp, Muriel Kauffman.)
Many of the Forbes 400 wealthiest and other prominent people in America are not listed here to protect their privacy.  Dawson has been called, "The most requested pianist on Park Avenue."
Dawson was the rehearsal pianist for Tom Hanks for the "floor piano", in the movie feature, "Big;" traveled and performed with soap star, Eileen Fulton, from "As The World Turns."  Private parties for acclaimed actors, Hugh Jackman, and Sir Derek Jacobi, and many Broadway producers.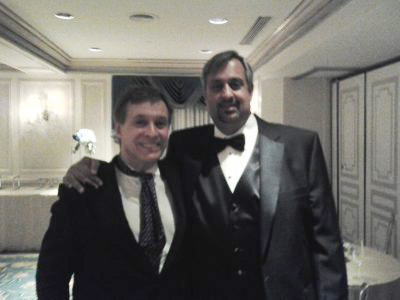 Bob and Neel Chatterjee, patent attorney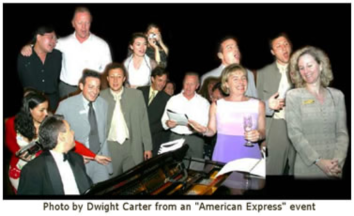 Early in his career, Dawson played piano several nights a week at the famous Sherry Netherland Hotel, and Le Club where he played several times for Andy Warhol.
The late great Wm. F. Buckley Jr. at 73rd and Park stated: "Dawson will enliven any evening."
When Steinway and Sons Piano Company went public, Dawson was the chosen pianist to play in the 57th Street Rotunda for the celebration.
Partial Corporate Client List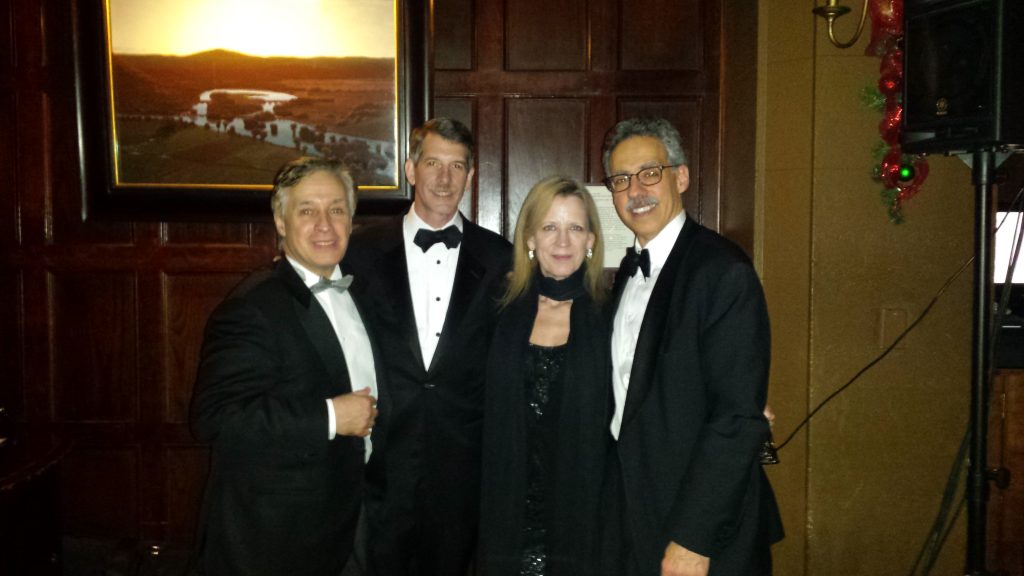 Numerous Board of Directors Meetings, Luncheons, Dinners, Galas throughout his career.
Conde Nast 12 consecutive years;  The United Nations; American Express multi departments; Smith Barney; Credit Suisse; Goldman Sachs, Bank of New York.
The Ford Foundation Board of Director's Meeting and Corporate Retreat;
The American Bureau of Shipping, Merck; International Paper Board of Directors; "God's Love We Deliver;" Owens Corning; NBC; CBS; CNA Insurance; Marriott Marquis on Broadway in Times Square for 12 years:  "I played something from every musical on Broadway."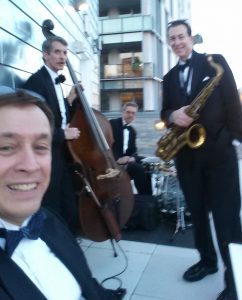 Law Firms
Orrick Herrington & Sutcliffe; Simpson Thacher & Bartlett; Weil Gotshal; Covington and Burling; Cooper and Dunham; Davis Polk; the former Mudge Rose; NY State Bar Association.
Numerous public individuals and around the world:
Bill Clinton,  Al Gore, (the late) Richard Nixon (who came over to the piano and we spoke about piano technique for a most memorable five-minutes—I asked President Nixon if he would like play something—he laughed; I thought he was going to say, "I don't want to show you up."  Instead he said, "All I ever wanted to do is to play the piano in public for my whole life."
 Dr. Henry Kissinger—Nancy Kissinger sang with me—she has a lovely voice and great sense of music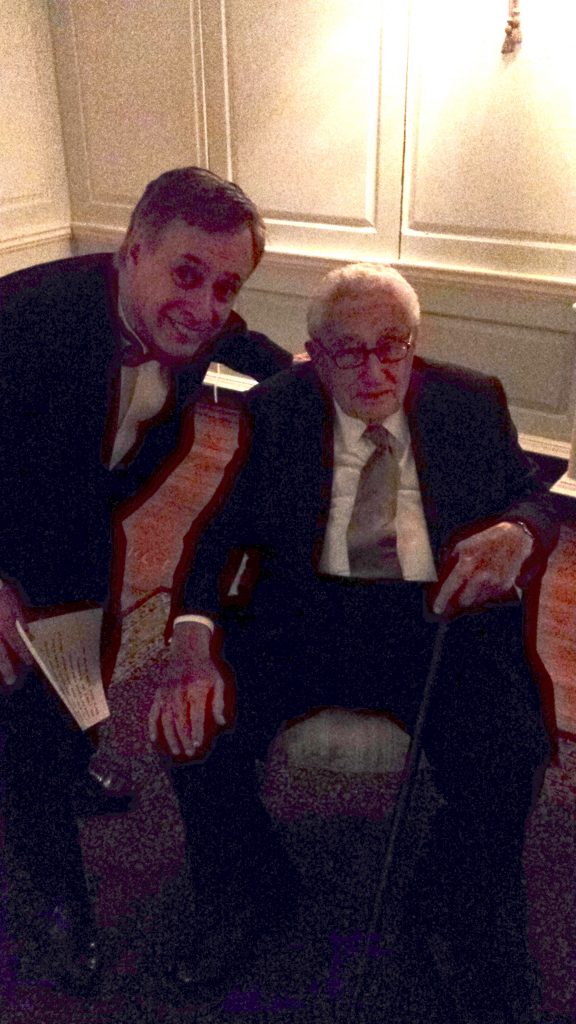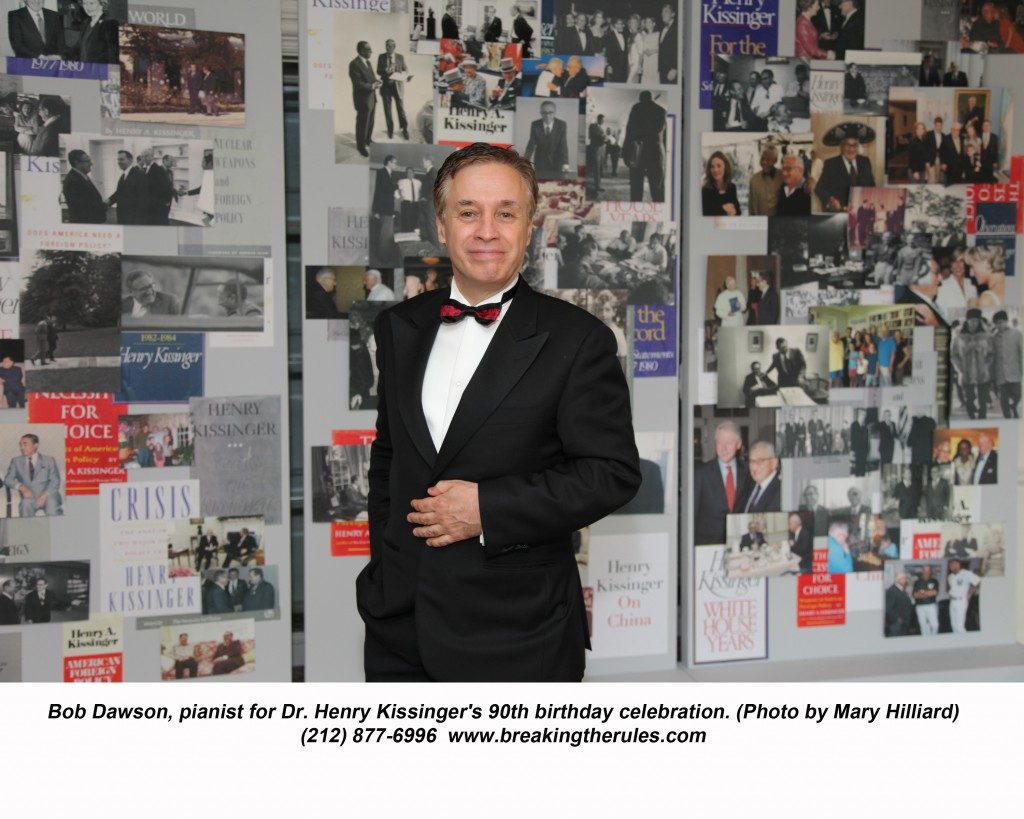 NYC Mayor Giuliani, Bob Hawke (Prime Minister Australia) who sang with me half the night,  Mikhail Gorbachev, Tom Daschle.
Dawson humorously says, "In the 90's I played for so many heads of state, and U.N. events, that I got to know the sniff dogs."  Resulting in:
A diverse international repertoire, including Japanese, Chinese, Russian, European, South American.  "I can play four-hours of French music easily, thanks to the wonderful Charles Masson, proprietor of La Grenouille, who calls me often to play.  There's even a Chinese song called, 'Frogs.'  Talk about 'two birds.' "
"Lately, my engagements are mostly in the Clubs.  I have played weekly for the Union Club as well as for their 175th Anniversary; and book release parties for wonderful writers and a fabulous poet, Grace Schulman, at the Century Association."

"Two of my more interesting engagements were centered around artists:  In November of 2013, my orchestra played for the celebration of Joel A. Rosenberg, (known as JAR) who just had his opening at the Metropolitan Museum.  Think of it:  A "living artist" inside the Met!  My second interesting evening was playing for Françoise Gilot, the mother of Pablo Picasso's children—and then a few months later being invited to her studio to see her amazing paintings."
Fee:  Call or email for quote: 212-877-6996
---
Breaking The Rules® for the  Corporate Environment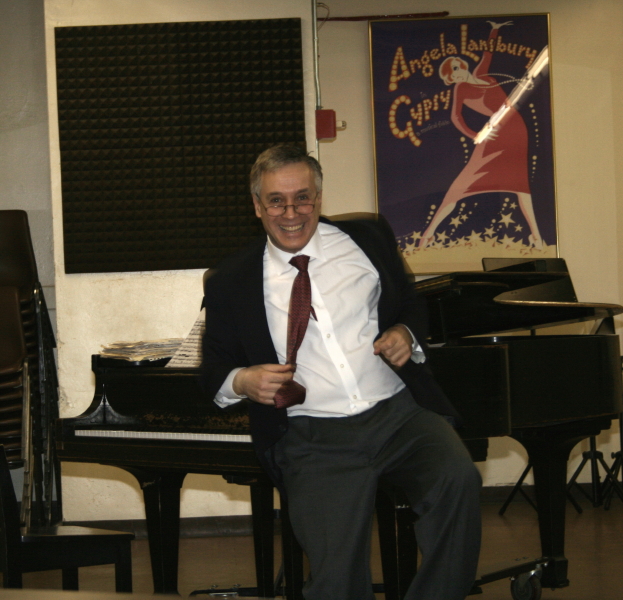 Each of the four programs is approximately 60 minutes
1. "Did Mozart Break Any Rules"?  (Relationships between various styles of music, and a new way of listening to Mozart.)
2. Translators of the Universe® (available after public release, see "button" on the "menu bar.")
3. Sing-a-long: A proven "method" that encourages people to feel connected to each other.  Companies, such as Toyota, would have Dawson play after their sales people attended a Broadway Show.  Afterward, the guests were invited back to the venue for a sing-a-long.  Rub elbows, no inhibitions!  Dawson says, "If I can sing, anyone can!"
4. Musical games of "Name that Movie Theme" (or Broadway show) coupled with humorous anecdotes:  This segment may be used as a segue between sessions or as a "get away from it all" technique before tackling the next agenda.
The CEO, Executives, Board of Directors, Staff and Associates of your company will have fun and learn in these engaging and useful experience with Bob Dawson and Breaking The Rules® "funshops" (not workshops).
Call or email for pricing.  bob@breakingtherules.com
You and your company will never hear music quite the same way again.
---
Warner Bros. publications released nationally a music folio of Bob Dawson's compositions in 1998.
---
No Fee Performances, Pro Bono
"SWEA" (Swedish Women's Educational Association)
NYC  Society of Professional Journalists.   aka: The Deadline Club
Memorial Sloan Kettering Toys for Tots; Lenox Hill Hospital;
Dorot, (Generations) W.  85th St, NYC
Musica Sacra
Landmark West
Women's National Republican Club;
West 83rd St. Block Association;
St.  Christopher's Inn;
United Methodist Church, Chatham, MA, for "Head Start;" Ryman Auditorium;
More than 100 performances of Breaking The Rules® adapted for children audiences in various cities throughout the US.